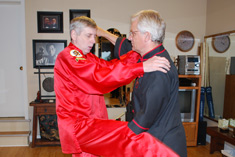 "Master Holz teaches real T'ai Chi. He is a longtime student of William C.C. Chen and offers direct lineage to Chen ManChing and the Masters that created the Art. Very special for those interested in learning T'ai Chi." - Lou
Crooked River T'ai Chi Ch'uan Center © 2019
Class Fee Schedule
Ten, one hour classes are $100.00 per month
Drop-In class fee is $15.00 per class
Student, Family Member or Senior classes are Eight, one hour classes for $80.00 per month.
Students - please bring a student I.D. and your class schedule.
Family Member also includes a significant other living at the same address (please provide a utility bill or credit card statement with a name/address.)
Senior classes - age 65 and above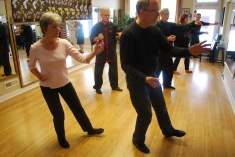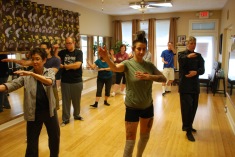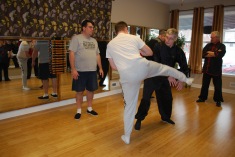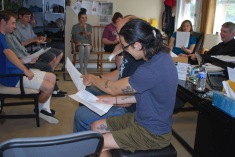 Students shown participating in class sessions.
Crooked River T'ai Chi Ch'uan Center © 2019
Class Schedule
Class days and times are subject to change. Please call ahead to confirm class schedule. Crooked River T'ai Chi Ch'uan Center would appreciate a courtesy phone call if you will miss attending your regularly scheduled class.
Monday

6:00 p.m. – 7:00 p.m. Beginner's Class
7:15 p.m. – 8:15 p.m. Push Hands Class
8:30 p.m. – 9:30 p.m. Advanced Class

Tuesday

4:00 p.m. – 5:00 p.m. Intermediate Class
6:00 p.m. – 7:00 p.m. Beginner's Class
7:15 p.m. – 8:15 p.m. Intermediate Class

Wednesday

6:00 p.m. – 7:00 p.m. Intermediate Class
7:15 p.m. – 8:15 p.m. Beginner's Class

Thursday

4:00 p.m. – 5:00 p.m. Intermediate Class
6:00 p.m. – 7:00 p.m. Beginner's Class
7:15 p.m. _ 8:15 p.m. Intermediate Class
8:30 p.m. – 9:30 p.m. Advanced Class

Friday

6:00 p.m. _ 7:00 p.m. Beginner's Class
7:15 p.m. – 8:15 p.m. Applications Class

Saturday

11:00 a.m. - 12:00 p.m. Beginner's Class
12:30 p.m. – 1:30 p.m. Intermediate/Advanced Class
4:15 p.m. - 5:15 p.m. Push Hands Class
5:30 p.m. – 6:30 p.m. Applications Class
Rev. 6/7/2016