Grand Master William C. C. Chen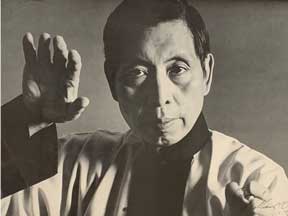 Grand Master William C.C. Chen,
William C.C. Chen T'ai Chi Ch'uan Inc., NYC


Grand Master William C.C. Chen is considered one of the original senior disciples of one of T'ai Chi's great masters, Professor Cheng Man-Ching. Born in Chekiang Province, China in 1935, Master Chen achieved his own international successes in Chinese martial arts tournaments and in 1965 opened his own school in New York City. Sifu Jim Holz has a been a student of Grand Master Chen since 1985 and was awarded the title of Master of T'ai Chi Ch'uan in 2013 by Grand Master Chen. The following unsolicited quote is proudly shared here with Grand Master's permission. "After seeing Jim this past August in New York, it is my opinion that Jim not only demonstrated excellent forms but his understanding of T'ai Chi Ch'uan is outstanding."
Testimonials

Master Holz teaches real T'ai Chi. He is a longtime student of William C.C. Chen and offers direct lineage to Chen ManChing and the Masters that created the Art. Very special for those interested in learning T'ai Chi. - Lou
The school is professional but warm enough to make me feel welcome. I enjoy the clean and relaxed atmosphere of Crooked River – they've struck the perfect balance of structured professionalism and caring instruction. - Nicole

Crooked River T'ai Chi Ch'uan Center is a beautifully maintained, clean and fun place to practice martial arts. Jim's knowledge and passion for T'ai Chi is evident in the multitude of classes and workshops offered at the Center. Sifu makes class fun and educational and it's a great workout for the body, mind and soul.- David H.
I work in a stressful environment and I'm happy to say that T'ai Chi has really changed my life for the better. It's given me better balance both mentally and physically. A great stress reliever and very relaxing. And I really like the tea! - Angela G.
The atmosphere couldn't be more warm and inviting. The staff and students feel like family. Master Jim Holz is willing and eager to help adjust to his student's different learning styles and at the end of each class I feel physically energized and mentally refreshed! - Jeff S.
Crooked River is a charming, comforting place. When you walk in, you're always greeted with positive energy and offered tea or water. Jim and Jan are beautiful people and I've never felt better than I do when I am learning T'ai Chi. Sifu Jim is very well-educated and takes time and consideration to make sure you understand the lessons. - Kate

Crooked River T'ai Chi Ch'uan Center provides in-depth knowledge and skills, at all levels of t'ai chi forms, weapons, applications, and push hands development. Master Holz' enjoyment in sharing his more than 30 years experience of t'ai chi practice is evident in his patient teaching style. Whether you are exploring t'ai chi for health, for internal energy development, for self-defense, or for competition (or all of these), you will learn and benefit much from the t'ai chi classes provided at Crooked River T'ai Chi Center in Parma, Ohio. - Irene Z.
Sifu Holz consistently demonstrates his thorough understanding of t'ai chi principles not only in class where he is always happy to demonstrate movements and answer questions, whether they are of a practical or theoretical nature, but in his comportment outside of class as well. I have never seen Sifu Holz be anything other than kind, friendly and generous with his time. We are very fortunate to have a t'ai chi instructor of Sifu Holz's knowledge and ability in Northeast Ohio. Since attending classes at Crooked River T'ai Chi, I have noticed a great improvement in my balance and coordination as well as a greater sense of relaxation. Of equal importance to me is that practicing t'ai chi has rekindled the love of movement that a sedentary academic life had diminished. I would also like to add that, while an interest in Eastern philosophy is not necessary to benefit from t'ai chi, practicing t'ai chi under a quality instructor breathes life into such ideas like few other things can. - Derek S.

In the past, my martial arts training had been invested in Aikido for over ten years. But after my back surgery, I found that I could no longer do the kicks and throws that are required of Aikido. I wasn't sure what was going to work for me in the way of exercise but I thought I was finished with the martial arts. I don't exactly remember how it started but I tried a couple T'ai Chi classes at Crooked River and I've never stopped coming! That was over 2 years ago and a lot of things about my body have improved including better balance and improved flexibility. It used to be that if I dropped a tool at work, I would have to pick it up off the floor. Now I can catch the tool that slipped out of my hand before it hits the ground! I wish I would have tried T'ai Chi years ago. I highly recommend real t'ai chi classes taught by a true professional at Crooked River T'ai Chi Center in Parma, Ohio. - Steve K.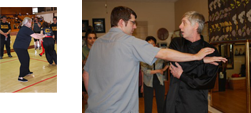 My grandma used to do T'ai Chi, so I'm honored to be practicing the same art that she did when she was alive. - N.Y.S.
My love of the martial arts began back in the early 1980's. I started out studying a practical self-defense style called minna jiu-jitsu, in which I hold the rank of third degree black belt. I also studied a shaolin kung fu style for several years. As I got older, the beauty and effortlessness of the internal styles caught my attention. After a couple of years learning from a different t'ai chi instructor, I was fortunate enough to find the Crooked River T'ai Chi school. Master Jim Holz is an excellent teacher. He has a very high level of skill in T'ai Chi and is a very patient instructor. His love of the art and love of teaching is clearly visible. I have been taking lessons at Crooked River for 2-1/2 years, and I love it! I enjoy the fact that we learn the t'ai chi forms, practice the application techniques, and work on push hands training as well. I highly recommend the Crooked River T'ai Chi school – great style, great teacher, great students. - Greg J.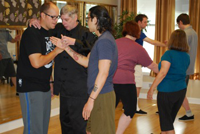 I like the T'ai Chi class very much because it is soothing and relaxing. The music is wonderful and the movements make me feel like I am dancing elegantly. - K.N.
Recently attended my first Applications Workshop and found it to be informative and a really good workout to-boot! Jim is a great teacher. - Tony Y.